The All-on-4 treatment concept is a cost-effective solution, without grafts, that provides patients with a fixed, full-arch prosthesis on the day of surgery.
Its features include:
Full arch rehabilitation, with only four implants
Two straight implants in the front and two inclined up to 45º in the back
Immediate function (fixed provisional bridge)
For patients who meet the requirements for immediately loaded implants
Procedure without grafts
Bone grafting is avoided by tilting the posterior implants using the available bone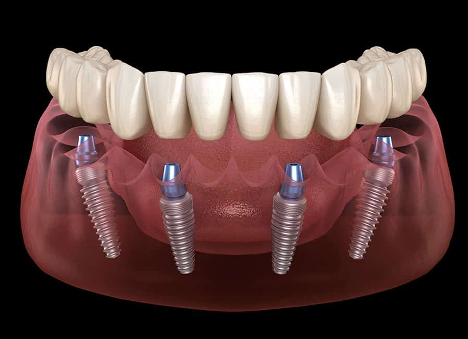 Why 98% of patients would recommend the All-on-4 treatment concept?
Rapid improvement of quality of life Full, fixed-arch prosthesis on the day of the surgery quickly leads to greater patient satisfaction in terms of function, aesthetics, sensation, speech and self-esteem.
Shorter treatment times The inclination of the posterior implants avoids the need for slow bone grafting procedures, while immediate loading shortens the time to teeth placement.