A dental implant is a medical device designed to replace the missing root and keep the artificial tooth in place. It is made with biocompatible materials that do not produce rejection reactions and help it attach to the bone. The implant surface may have different textures and coatings, usually used to increase its adhesion to the bone (osseointegration, it is made of titanium and bio-integration if it is a ceramic material).
When replacing lost teeth with implants, a greater amount of bone is preserved, since it is reabsorbed and does not receive any type of stimulus.
What are Crowns and Bridges?
Crowns and most bridges are fixed implant prostheses. Unlike removable prostheses, which can be removed and cleaned daily, fixed crowns and bridges are cemented over existing teeth or implants
How do crowns work?
A crown is used to completely cover a damaged tooth.  In addition, it can be used to improve the appearance, shape or alignment of the tooth.  A crown can also be placed on an implant to achieve the shape and functional structure of a tooth.  It is possible to match the color of porcelain or ceramic crowns with that of natural teeth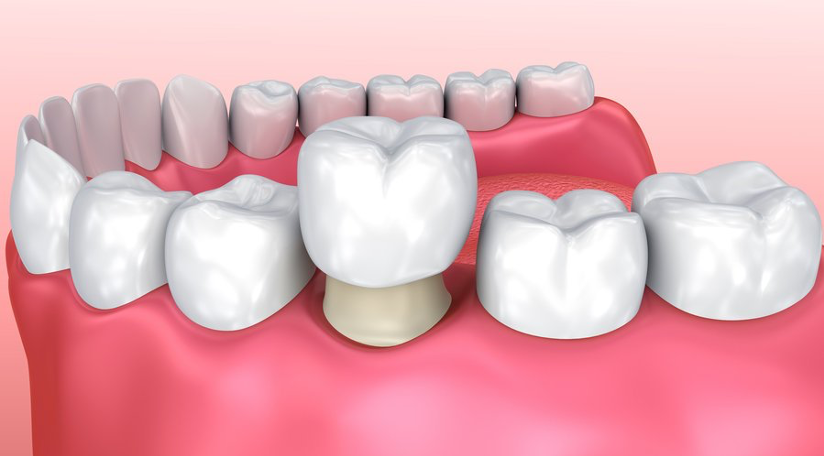 The dentist will recommend a crown to:
Replace fillings, when there is not enough tooth left
Prevent a weakened tooth from fracturing
Repair a chipped tooth
Place a bridge
Cover a dental implant
Cover a discolored or deformed tooth
Cover a tooth that has undergone root canal treatment
How do Bridges Work?
If you are missing one or more teeth, the dentist will recommend a bridge. Over time, the gaps between missing teeth cause the remaining teeth to rotate or move towards the empty spaces, which leads to an improper bite. The imbalance caused by missing teeth can also result in gum disease and temporomandibular joint (TMJ) dysfunction.
Bridges are often used to replace one or more missing teeth and take up the space left by them. The dentist cements the bridges to natural teeth or to the implants that surround the gap. These teeth, called pillars, serve to anchor the bridge
Advantages of Dental Bridges
There are several positive effects of dental bridges, which explain their frequency of use in restorative dental work.  First of all, dental bridges are an effective solution for the replacement of missing teeth in the mouth, offering a functional and aesthetic correction.
In terms of function, the bridge allows a patient to chew and eat normally and can help chew food as natural teeth.